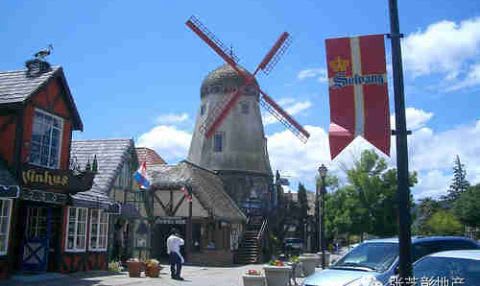 About two hours drive from Los Angeles, there is a famous resort town in Southern California, Danish Village, commonly known as Danish Village, formerly known as Solvang, which means a sunny pastoral in Danish. Located between the winding Santa Ynez Valley wine country, it was reclaimed by Danish immigrants in 1911. The buildings in the town were built in the Nordic style, which amazed visitors from Denmark. This small town has a population of fewer than 5,000 people, but it has become one of the most distinctive small town attractions in the West Bank since the 1950s, and more than one million tourists come here every year.
Walking in this small town makes you feel as if you have entered a fairy tale country. There are chic and charming shops and restaurants, colorful flowers, and Nordic buildings with windmills on top. The houses here are either water chestnuts or spires because they mimic the high-latitude Danish climate that is prone to snow. At the same time, Solvang city regulations restrict the intrusion of American chains, and Solvang retains its original style for more than 100 years.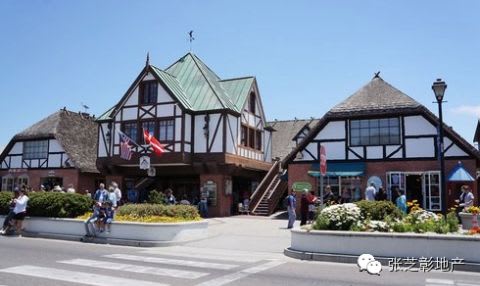 There are many famous attractions in Solvang, but the Christian Andersen Museum (Christian Andersen Museum) must be seen. Before arriving at the Andersen Museum, you first see the Little Mermaid Fountain. After Andersen's death, the Danish government built the statue of Andersen and the Little Mermaid to commemorate him.
The Christian Andersen Museum (Christian Andersen Museum) is located on the second floor of The Book Loft bookstore diagonally opposite the Little Mermaid Fountain. It displays versions of Andersen's fairy tales in various languages, as well as his manuscripts and models of his former residence. I think everyone can count a few of Andersen's fairy tales, such as the emperor's new clothes, Thumbelina, and the little match girl.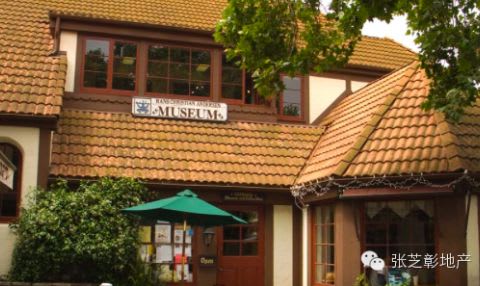 Arriving in Solvang, almost everyone will go to Solvang Restaurant to taste the traditional Danish cuisine aebleskievers jam muffin balls. We won't mention whether it tastes good or not, you will have an extra chat if you eat it. When you ask at the restaurant, you can see the display in the window. You can take it away or enjoy it in the restaurant.
The chairs and decorations of the restaurant are very distinctive, and there are Danish totems everywhere, which makes people want to explore their meaning. On the walls of the dining room are illustrations of Prince Andersen's fairy tale Swan Prince. Enjoying desserts in this atmosphere still feels exotic.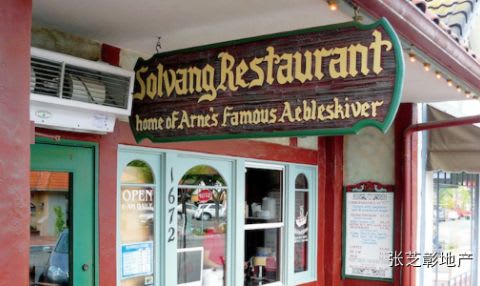 For Aebleskiever, to be honest, I personally think that the taste is just okay, but every time I go to Solvang, the place I must go for breakfast is Paula's Pancake House, which is a popular store that can only enter in long lines every day. You might say that it's Pancake. Where can it taste so good? It's so delicious that you can't silence it. The thin skin is crispy but tenacity and the fragrance are slightly sweet. With natural sugar juice, fresh fruits, and cream, every bite is an endless aftertaste.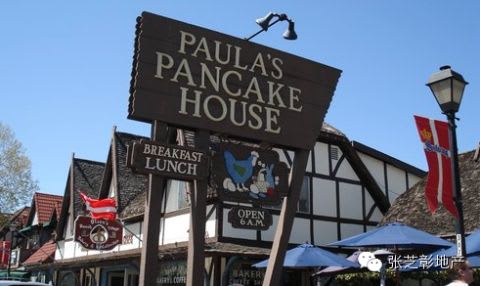 You who live in Los Angeles, don't sleep late on weekends, go eat Paula's Pancake! If you come from afar, don't miss this beautiful town!